Home
Don't get surprised if you find out that your favourite dish has been around for hundreds or thousands ofyears. For your information, there are foods that have been around for centuries. The recipes for old dishes that have stood the test of time as these dishes are cooked the same old way.
If you want to know more about the old dishes that are still cooked the old way, we've got you covered.We have rounded some of the old recipes that are still in use and cooked the same old ways.
Here are the 9 old dishes recipe still cooked the old way today:
1. Meat Pie
The meat pie is one of the most liked dishes here in Australia. But you will be surprised to learn that it is one of the old dishes that have been around for hundreds of years and still cooked the same old way. The meat pie is estimated to have been around since 1700 BC. It is believed that the earliest people to prepare a meat pie were from ancient Mesopotamia. According to the earliest recipes for this dish, the cooking has not changed apart from slight changes in ingredients depending on the region.
2. Stew
Stew is one of the oldest recipes that have stood the test of time. The dish looks and tastes more like curry, and that's probably why people still like it. The main ingredients are vegetables, poultry, meat, and many other ingredients simmered over gently heat. The dish also includes a lot of spices which gives it a fantastic aroma and taste. It is estimated that stew has been around since 6000 BC making one of the old dishes that have not changed the old way of cooking.
3. Kheer
This is another mouth-watering dish with its origin in the Indian subcontinent. The dish is estimated to have been around since 400 BC. Kheer is a creamy milk-based dessert that is mostly served on occasions such as wedding ceremonies, festivals as well as temples in India. Although it may have been given various names such as payesh, fereni or kshirika, the recipe has been the same with minor differences depending on the region. However, the way of cooking this dish has changed based on some of theancient food recipes. Kheer is still one of the popular dishes in India.
4. Garum
Garum or fish source is an old dish synonymous with East and Southern Asia Cuisines, especially in places like Vietnam, Cambodia, Thailand, Japan, and Myanmar amongst others. Guram is simply a fish sauce that is prepared by fermenting a dried or fresh fish. Although other ingredients that make a complete dish might vary depending on the region, the main ingredient (fish sauce) is cooked the same way. This dish is estimated to have been around since the 4th century making it one of the oldest food items that have maintained the old way of cooking.
5. Tamales
If you have never eaten tamales, then you need to order a bite. The dish is popular not only for its fantastic taste but the health benefits it provides. This is one of the few dishes that have both fruits and vegetables as the main ingredients. Tamales dish was first prepared between 8,000 and 5,000 BC. What is interesting about this dish is that nothing much has changed about is preparation. Today, we are also using dough and other ingredients that have been used for centuries. You should try it.
6. Pancakes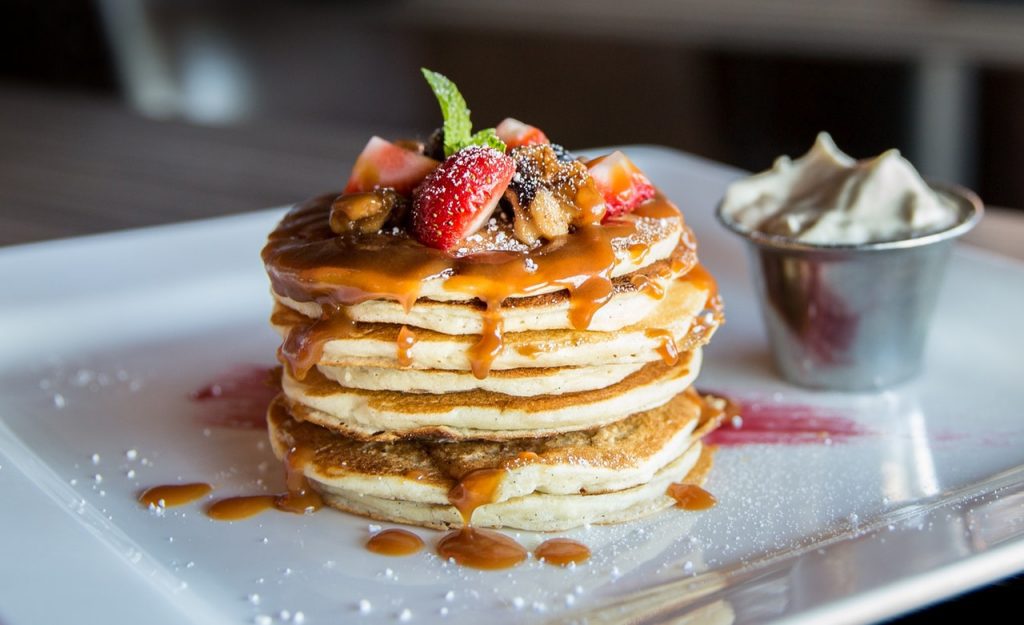 We all love pancakes, but one thing that most of us may not be aware of is that this dish has been around for centuries. It is estimated that pancakes have been around since 3300 BC. Most parts of the world used to make pancakes depending on the ingredients found in that region. Although the ingredients may have changed a little over the years, the use of wheat dough has not changed as the main ingredient. Today, pancakes recipe uses wheat plus other ingredients such as eggs to make it more nutritious. However, not much has changed when it comes to the actual preparation of the dish.
7. Pilaf
Pilaf is another ancient food recipeoriginating in China and later in the Indian subcontinent. A pilaf dish has rice as the main ingredient. The recipe, including cooking rice, meat, and vegetables in a broth seasoned with different herbs and spices. In most cases, chicken, fish, pork, seafood, lamb, and so on were used as the ingredient depending on the region. That is has not changed even today. The cooking of Pilaf is the same way it was centuries ago. If you have never tasted pilaf, you need to look for a recipe or place an order at your restaurant.
8. Curry
Origination from the Indian subcontinent, this dish continues to gain popularity across the world due to its taste and medley colours. The dish includes a lot of spices and herbs, which makes it not only healthy but also tasty. It is estimated that the curry dish has been around since 2600 – 2200 BC. Although some new spices and herbs may have been introduced due to globalization of the dish, the preparation has not changed. So it somehow tastes the way it did some centuries ago.
9. Cheesecake
I know most of us have at one time developed a craving for cheesecake. But what is interesting by cheesecake is that it didn't come just the other day, but the recipe is centuries old. Cheese is estimated to have been prepared first around 2000 BC in the Samos, Greek island where cheese moulds were found. In fact, it is believed that cheesecake was served as a dessert for the athletes who had participated in the first Olympic games of 776BC. From a cheese recipe that was written in 230 AD by an ancient Greek author Athenaeus, very little has changed. The dish is still cooked in the old way.
These are 9 old dishes that are prepared in the same old way and still popular in various parts of the world. Although ingredients may have changed a little, the cooking process is still the same.
Updating your kitchen with the latest gadgets is the best way to make cooking easier, fun, and friendlier. The good news is that technology continues to advance every day, and thus there is always a new or more advanced gadget to bring into the kitchen. So which modern kitchen aid should you have these days? Well, you need a bunch of them.
If you want to update your kitchen gadgets, we have rounded up some of the best new-age kitchen aids that you should consider buying. These are modern kitchen gadgets that will not only make the cooking time a breeze but will also improve cooking efficiency.
Here are the 10 best modern kitchen gadgets you should buy
Air-Fryer
We all like the taste of fried food, but the issue of health due to trans-fat and high calorie scares us. But with Air-Fryer, you can enjoy your favourite fried dish without worrying about fats. The gadget enables you to cook with a little amount of fat and still make you feel like you are eating deep-fried food. The air fryer has temperature control that allows you to set your preferred cooking temperature. In addition, it comes with double racks that will enable you to cook two dishes in one go.
Smart Microwave
With smart kitchens becoming a reality, most of the gadgets are now coming with smart features. AmazonBasics Microwave is one of the latest smart gadgets in the market, and kitchen junkies cannot get enough of it. What makes this microwave unique is its Internet of Things features that it comes. It has a dedicated app that you install on your smartphone to control it. So, you can be watching your favourite show on TV in the sitting room while at the same monitoring your microwave from your phone.
Hiku
You and I know that shopping for food, especially vegetables, can be a stressful task. You usually find the food is finished when cooking and also forget some food when shopping in the grocery. But with Hiku device, your food management will be made easy. The device helps to keep track of food in the fridge. Every time you remove a pack from the fridge, the app will read the barcode and add it to your shopping list on the Hiku app. So, the device will automatically update the grocery shopping list. That's why it is one cool modern kitchen aids making the smart kitchen a reality.
Smart Blender
Most people don't know is that the juices and smoothies they make could be having high-calorie content. That's why monitoring the number of calories in fruits is crucial. With NutriBullet Balance Blender, you have a gadget that can calculate the number of calories that are blending in your juice. The smart blender measures ingredients and keeps the record of your nutritional factors. The gadget has an app that you need to install on your smartphone where you read the results. This is one of the new-age kitchen gadgets that you need to invest in.
Smart Slow Cooker
Smart Slow Cooker is among the new-age kitchen gadgets that have changed how we do things in the kitchen. With this smart slow cooker, your cooking experience will never be the same again. The gadget is designed to take care of cooking for you, even when you are at work. Among the best options is the Crock WeMo-Enabled Smart Slow Cooker. As the name suggests, this pot works with the WeMo app, which you have to install on your smartphone. So, it is one of the Internet of Things kitchen gadgets as you can control it from your phone as long as you are connected to the internet. It's one of the must-have modern kitchen gadgets to buy.
Vegetable Slicer
Cutting vegetables is one of the activities that most of us find tiring. It does not only consume time but can also cause injuries with the knife and requires a lot of skills. But has new vegetable slicers as the Spiralizer 5-Blade Vegetable Slicer is making work in the kitchen easier. The slicer does not only cut vegetables but also in spirals. So, your vegetables will look more like noodles. This is one of the modern kitchen aids that you need to invest in.
Smart Ingredient Weighing Machine
One of the key things that stress most people in the kitchen is getting the right amount of ingredients. In fact, most people get it wrong most of the time. Imagine having a gadget in the kitchen that can help you get ingredients' weight correct? Well, that is what PantryChic offers. It is an alternative to the traditional scale that features three BPA-free canisters, which are also dishwasher-safe. It is one of the new-age kitchen gadgets that you need to have in your kitchen.
Rice Cooker
Rice is one of the most consumed foods in the world due to its ease of cooking. But we all know that cooking rice requires some skills. You need to get the right amount of water, controlled temperature, and so on. Some of the modern kitchen aid gadgets that you need to invest in are the Rice Cookers. The gadget makes cooking rice very easy in that you can control temperature and have the right amount of water to prevent the rice from burning. The gadget also cooks rice very fast.
Electric Mixer
If you love baking, then you need to have the dough mixing automated. An electric mixer is a gadget that can mix anything from the dough, eggs, and any others that should be mixed. Your work is to out the content in the bowl, set the time for mixing, and the electric mixer will do the rest. It's one of the cool modern kitchen gadgets to invest in.
Multiple Sided Stainless Steel Grater
If you want to grate your cheese or vegetables such as carrot quick, then you need to buy a multiple-sided stainless steel grater. These are graters that will make your work in the kitchen easy and first. You can find even a six-sided grater.
These are some of the best modern kitchen aids that you need to invest in. With most of them coming with smart features, they will make your cooking time in the kitchen a breeze.  
Here at SKE or Smart Kitchen Ecosystem Labs, we specialize in the internet of things, connected living, smart home, and home automation. Too technical for you? Don't be intimidated because it is exactly our desire to make the complex and intricate side of technology simple and functional for you. Because we believe that in today's modern and digital world, we have to be abreast with technology. We can use technology to innovate things that would improve our way of living.
SKE Labs makes devices that are sensor reactive and can be connected to the internet. In this way, you can use our products with your other applications and devices so that they can all work together towards your personal purpose. In this way also, we have a lively and productive ecosystem in the virtual domain for the software and applications that would collaborate for your own good.
We offer smart kitchen solutions. We keep on saying smart because we use the SMART technology or the Self-Monitoring Analysis and Reporting Technology that makes it possible for our users to track and evaluate the nutritional indicators based on what they consume and what they need to achieve their fitness and wellness goals. This truly innovative product makes it easier for you to maintain a healthy diet.
We were able to share our first product is Neo, the world's first smart container, to the rest of the world when the 2015 International Consumer Electronics Show opened their garage doors in Las Vegas for our team. Through our supporters, we were able to fund the production of these jars and impart our commitment to the rest of the world. Neo connects to your kitchen, gives it your personalized touch, and creates a significant change in your eating habits and diet. It is almost like magic! So sit back, relax, eat, and have fun.
Thank you for visiting our website. We hope you will browse through our pages to know more about our company and the products that we offer. We have featured our exhibits, interviews, videos, photos, and other links to make the experience informative and fun for you. Be on the lookout for exciting promos and offers that we have so that more people can enjoy our products. Come and read the testimonials and feedbacks from our customers and see for yourself how our products transformed not just their kitchen but their lives. Join our discussions about kitchen solutions and nutritional management as we journey with people from all walks of life in their road to health and wellness. Don't hesitate to share your experiences and valuable tips for keeping fit and healthy.
Here at SKE Labs, we know and understand your needs. We want to make your life simpler through the innovative products that we offer. Join the kitchen revolution now! Allow our products to redefine your kitchen for you. So remember friends, we want you to eat healthily and have fun while doing it. Cheers to a happier and healthier you.